7 Strategies to Reduce Anxiety and Isolation During Lockdown
Do you also feel distressed over being isolated or disconnected from the world? I guess many of you, especially the people who are not able to work in the office right now. Most of the millennials who have never been home for a long time are also going through a tough patch of life since the entire nation has gone under 21 days of complete lockdown to combat the coronavirus pandemic. Though, people have shared an enormous amount of ways on social media to get rid of monotonous life while working from home. But if nothing gets you excited yet, here you can get some amazing ideas to deal with anxieties and self-isolation.
7 Strategies you can follow to curb anxiety while quarantined-
Here are a few ways you can practice to assure that your mental health is properly taken care of!
Always try to learn something new
There is no age limit to learning! Learning is a never-ending process and true learners always crave to learn from anyone. However, we hardly manage our time to learn new skills from our hectic and overflowing schedule so that we can make our knowledge stronger. Nevertheless, can you go back to the time when we keep telling ourselves that if I would have had more time, I could have done it?
But, now you got such a great opportunity to utilize your time and enhance the level of your interests. In fact, everyone should strive to be life long learner, it helps your mind grow in respective of a particular industry. Moreover, it would be advisable to engage yourself in new techniques that will help your business to grow and improve your personal life.
Here's what happens when you expand your mind-
It keeps you highly motivated

Make your day highly-productive

You can share your knowledge with other teammates

Help you to develop ideas and expand your vision
Be Active As Possible
Another major strategy to avoid uneasiness of being quarantined is to be active like never before and stick to your routine. In order to deal with the uncertainty and stress of the global outbreak, make sure you have an active schedule. Do you know what happens when you avoid physical activity and stay idle at home? One study found that just two weeks of inactivity could lead to reductions in muscle mass and metabolic effects. Besides, your quarantine might be going low but only you can turn it into an exciting one and influence others to follow your instincts.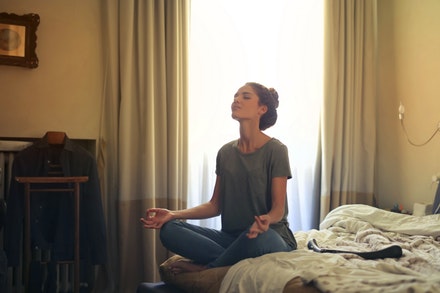 Fortunately, you don't need to spend on workout equipment to get a good workout, you can check out exercise videos, bodyweight exercises, online workouts and install fitness applications. Keep working on your health because working from home has a lot of challenges, especially when it comes to your health.
Meditate, or just breathe
Rather than taking your phone in the morning first, start your day with meditation. It helps you in reducing stress and depression, if you do 10-minute mediation you will feel calm. Mindfulness, yoga and focused breathing "have been shown to be good for anxiety, stress and general wellbeing," says Dr. James Dodd, consultant senior lecturer in respiratory medicine at Bristol University.
Stay Positive & Calm
Isolation leads to a high level of anxiety and makes people's life filled with panic disorder. But when you stay positive and calm during hardships it will help you to stop worrying about fear of being nostalgic or not able to concentrate on work. To beat depression, you can either pick your favorite hobbies- reading novels, cooking, gyming, dancing and watching Netflix and other activities or join your friends in a group Face-Time call.
Spark your Creativity
Someone has rightly said: those who like being alone can be more creative. By taking out some time from your schedule benefits you and your brain to be more creative. Often, we fail to make time for the things we are passionate about and it could be anything. Moreover, you can implement your creativity in your business as well. In today's world, businesses seek hard skills and creativity in the workplace. Therefore, by putting your imagination and ideas into action, you can encourage the audacity and embrace evolution. So let that creativity out because you never know, you might surprise yourself.
Avoid Extraneous Information
Avoid reading every message on WhatsApp or other mediums that you receive by your family and friends. It can lead to unnecessary panic. If you want relevant information, prefer trustworthy sources like the World Health Organisation or India's COVID-19 website to check on facts and figures.
Reward Yourself:
Last but not least, it's important to reward yourself as soon as you accomplish your objectives and goals. By rewarding yourself, your brain elicits positivity and encourage you to do something admirable. Moreover, it doesn't matter whether the task was big or small, just keep going from one thing to the next and don't stop to think about what you've achieved.
In the battle against COVID-19, we all are struggling through a hay-weird lifestyle. Make sure you are spending time with your family and friends so that you feel good about your health and mental stress while staying home. Don't let coronavirus impact your mental health. In case you have some tips or ways to reduce anxiety, please share it in the comment section. Stay home, Stay Safe!
1 0
Shailesh
7th April 2020
Very useful tips. I will follow in my daily routine defintelly it wll help us to improve ourself.
List Your Business
Improve Your Business Visibility
Please rotate your device
We don't support landscape mode on your device. Please rotate to portrait mode for the best view of our site